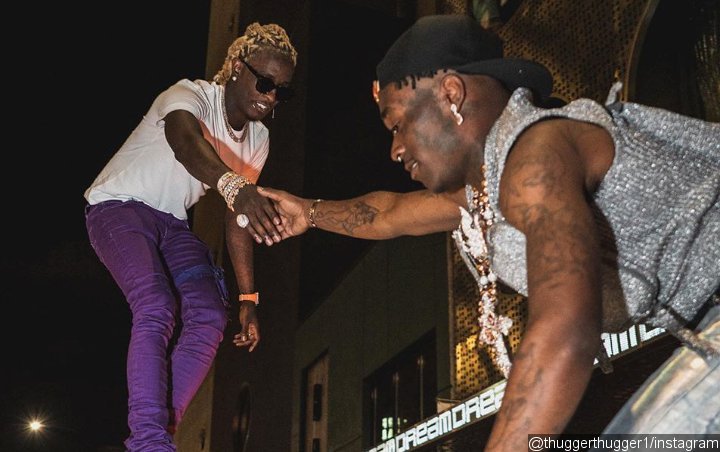 One of the Instagram images shows the 'Best Friend' rapper helping his 'Up' collaborator get on top of a car, while another photo sees them laughing and holding hands.
AceShowbiz –
Despite having denied rumors about his sexuality, Young Thug just can't seem to escape gay rumors. This time, the rapper has successfully made fans speculate whether he and Lil Uzi Vert are more than just best friends after he shared on Instagram on Friday, August 30 a series of photos of him and the 25-year-old during their night out.
One of the images showed Thug helping Uzi get on top of a car, while another image saw the best pals laughing and holding hands. In the third image, the "Up" collaborators appeared to be having a good time together while sitting on top of the vehicle. "Teach whats taught," Thug wrote in the caption of the post.
The photos looked normal at first, but considering the gay rumors surrounding Thug, this made people wonder whether their friendship had turned into a romantic one. Some were even already convinced that the Thug and Uzi are an item and dubbed the rappers "relationship goals" and a "cute couple" among others. Someone commented, "They are so gay and jolly! The level I aspire to be." Meanwhile, another simply wrote, "They dating."
One other noted, "They're so touchy with each other," as an individual suggested, "Probably sucking on each other."
Thug has been rumored to be gay for a while due to his love for his gender-fluid fashion. However, he shut down the rumors during a radio interview last week. Declaring himself as the "straightest man in the world," he said, "People judge me, and people say, 'Gay!' But it's like, 'N***a at one point I probably had more h**s.' You know what I'm sayin'? It's serious! If people think that I'm gay, I'm already misjudged."
Thug added, "Man, I hate you guys! Like, what? …I'm not even havin' no threesome with no n***a!"