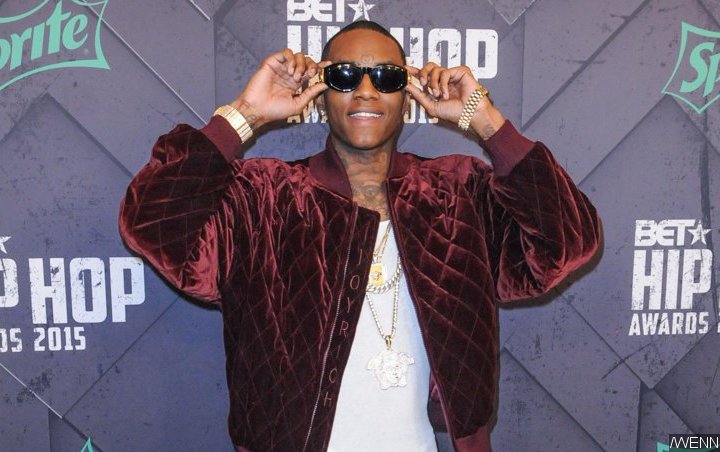 The 'Crank That' rapper has been spotted in public for the first time since he was released from prison in July, looking healthy and gaining 50 lbs. of muscle.
AceShowbiz –
Soulja Boy has resurfaced after he had gone missing for two months. The rapper had not been seen in public after he was released from prison in July, which reportedly prompted his mother to file a missing person report to the LAPD after she could not get in touch with him.
But the 29-year-old hip-hop star brushed off all those worries with his first public appearance on Thursday, September 12. The Chicago-born star looked healthier as he reportedly had gained 50 pounds.
CEO Money Mike of SODMG took to Instagram to share a video of Soulja, assuring that the "Kiss Me Thru the Phone" hitmaker is alive and well. "PSA!!! ( PLEASE SHARE) he's not Missing!!!" he wrote in the caption. "Guys!! @souljaboy had been FREE since July 14th of this year!!! He is ok and ALIVE & Well ,, as a matter if fact,hes doing so well that hes gained 50lbs.. the Biggest Comeback continues!!"
Giving an insight into Soulja's new lifestyle, he claimed, "He's just moving different & try"na stay out of the way & trouble.." Money added that the rapper would discuss what he's been up to in the past few months as well as his new projects on "The Breakfast Club".
"I spoke with @CthaGod & @DjEnvy and his 1st Big Public interview is gonna be on the @breakfastclubam," he continued. "He's gonna explain why he's been out over 2 months & why he's moving like an OG now, why he hasnt veen in Social Media, & what jail taught him and on fake friends and alot more… Also he's gonna speak about new music & his new documentary 'This Cant Be Real' & his up-coming boxing match with @jakepaul in LA @staplescenterla."
Soulja was arrested in March and sentenced to 240 days in prison for a probation violation. He was released from jail on July 14, five months before he was expected to be freed. The jail authorities explained that Soulja was a good boy behind bars, which factored in his early release.