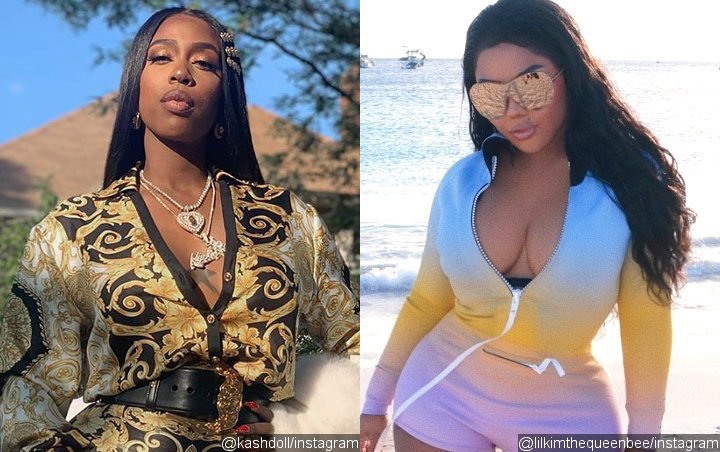 It first starts after the Detroit native takes to the blue bird app to publicly apologize to Lil' Kim and says how grateful she is after Kim accepts her apology.
AceShowbiz –
Following their recent reconciliation, Kash Doll and Lil' Kim have nothing but love to each other. The two raptress didn't hesitate to show it on public and even melted a few hearts with their sweet Twitter exchanges.
It first started after Kash took to the blue bird app to publicly apologize to Lil' Kim. "I was in my feelings about some s**t someone I was working with told me," the "Ice Me Out" raptress admitted. "She said I couldn't go on tour with her. Lil Kim didn't even know."
"She was so G about it! Hugged me and embraced me," Kash went on gushing. "Listen, you're too talented for that. I love learning s**t from OGs!! @LilKim Thank u for everything! You're truly an icon, love."
Kim didn't take long to respond to the nice words from her fellow rapper. "In life we make mistakes and bad decisions sometimes but it's how that woman fixes it is what defines her," she wrote back to Kash. "I asked at @Kashdoll to fix it publicly so I can support her publicly and she kept her word. @kashdoll u r a true queen for that I respect u even more."
Kash couldn't be more grateful that Kim accepted her apology, tweeting, "Thank u for accepting my apology!! I'm so grateful, Kim. You don't understand!!!"
Kim also wrote in a separate tweet, "u have always Been a hustling get money fly a** b***h wit skills , u r a go getta & I love that about u I always rooted for u even still & i always wanted 2 support u plus u 4rm one of my fav places. Real recognize real & last night we had a real moment Love u queen @kashdoll."
In response to that, the Detroit native tweeted, "Love u moreeeeeeeeeeee this speaks volumes! That s**t i was ranting about i never thought you'll see it and u brushed it off..I always say your name in my interviews! I'm genuinely happy thanks so much!!!!"
Fans were equally happy to see how things were going between the two stars. "Idc what anyone says, lil Kim seems like a very nice person to me," one person said. Echoing the sentiment, someone else added, "Kim is truly the sweetest, everybody always says she extremely nice … love a genuine link up."
Meanwhile, some others brought Nicki Minaj who actually didn't have anything to do with all this. "Lil Kim been talking a lot lately since Nicki announced her retirement," one fan commented, while other one said, "Nicki been shouting out both but y'all won't see that." One person, however, begged others to stop dragging the "Anaconda" hitmaker, who recently announced her retirement, into everything. "DONT PUT NICKI IN THIS!! she minding her business," the user snapped.