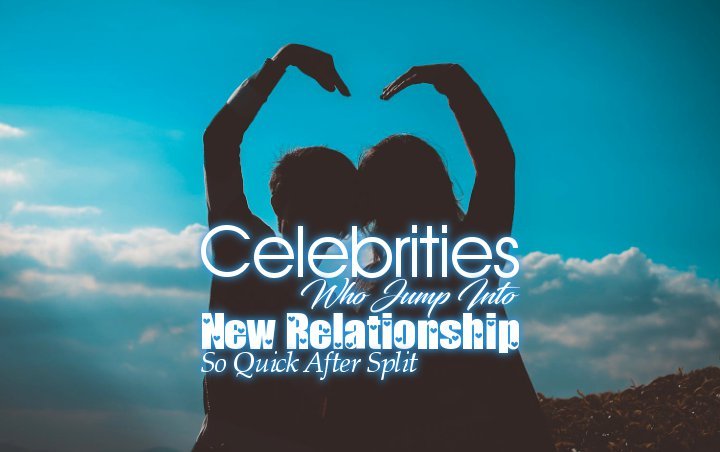 Some only need less than 3 months after a split to be seen with someone new, while some others are moving on in that very month they call it quits with their exes.
AceShowbiz –
Celebrities are always the center of attention, especially when it comes to their love lives. Given the constant spotlight, one may think that they will take some time before starting a new relationship after a breakup. However, some celebrities are not hesitant to jump into a new romance since moving on is seemingly as easy as falling off a log for them.
Some only need less than 3 months after a split to be seen with someone new. Some others are moving on in that very month they call it quits with their exes, while others shock fans by announcing that they will become a dad months after breaking up with another woman.
Among those who don't need much time to find a new love are Taylor Swift, The Weeknd, Bella Thorne and Louis Tomlinson. Let's take a look at their tumultous love lives!
1. Taylor Swift
---
When it comes to dating game, Taylor Swift is someone we can't leave out. The "Blank Space" hitmaker started dating Calvin Harris back in 2015, only to break up a year later in June. Although one source revealed at the time that there was "no drama" during the split, the exes appeared to throw shades at each other later.
Taylor didn't seem to have much time to be sad over the breakup since she was spotted hanging out with Tom Hiddleston in the same month. Tay talked about her relationship with both Tom and Calvin on "Getaway Car" off her album "Reputation" in 2017. In the beginning of the song, Taylor sang about wanting to get out of one relationship, but she didn't have a "reason." Then, she found her reason at an event where "the ties were black and the lights were white," presumably referencing to her meeting the actor at the 2016 Met Gala. Taylor and Tom eventually broke up after 5 months together, and she's now happily in relationship with actor Joe Alwyn.
2. Naya Rivera
---
Naya Rivera and Ryan Dorsey's marriage was such a whirlwind one. Naya announced her marriage to her ex-boyfriend in Cabo San Lucas, Mexico back in 2014. "By the time we sort of reconnected, I was like, 'Gosh, there's a reason why you keep coming back in my life and we keep coming back together,' " the "Glee" alum said of Ryan in her 2016 memoir "Sorry Not Sorry".
Their marriage arrived just three months after she and ex Big Sean called off their engagement in April 2014. The happy moment for Naya and Ryan didn't last long as they split in 2016. They got back together in 2017, but called it quits for good after Naya was arrested for misdemeanor domestic battery.
3. Gigi Hadid
---
Fans may remember Gigi Hadid and Joe Jonas' short-lived romance. The pair ended their relationship after dating for five months. But the model didn't have the single title for too long.
One month after calling it quits with the Jonas Brothers member, Gigi began dating Zayn Malik in December 2015. Gigi and Zayn had been one of couple goals during their time together, though they broke many hearts as they ended their on-and-off romance in January this year.
4. Bella Thorne
---
Gigi is not the only one who doesn't need much time to move on. Bella Thorne began dating her longtime buddy Tyler Posey back in 2016. It arrived a month after the "Famous in Love" alum broke up with Gregg Sulkin, whom she dated for more than one year.
Bella and Tyler's happy romance, unfortunately, didn't last long. Months after flaunting her relationship with the "Teen Wolf" actor on Instagram, the pair split. The "Midnight Sun" actress did it again after she split from boyfriend Mod Sun earlier this year as she recently was pictured getting cozy with singer Benjamin Mascolo.
5. Ariana Grande
---
Ariana Grande and Pete Davidson are also ones of the epitomes of a quick move on. The "Breathe" hitmaker announced on May 10, 2018 that she had ended her relationship with late rapper Mac Miller. And in the same month, Ariana was seen hanging out with Pete, who later broke up with her girlfriend Cazzie David.
Ari and Pete went on flaunting their whirlwind romance on their Instagram accounts. As if that was not shocking enough, the "Thank U, Next" songstress announced her engagement to the "Saturday Night Live" cast member in June that year. The two continued going strong until they split in October 2018.
6. Kim Kardashian
---
Kim Kardashian's romance with her current husband Kanye West began in 2012. While she had split from Kris Humphries after their 72-day marriage, the former spouses were still in their high-profile divorce battle when the "Keeping Up with the Kardashians" star romanced Kanye.
Kim and Kanye are still happily married now. The TV star and her rapper husband share four children together, Saint West, North West, Chicago West and Psalm West, the latter of whom they welcomed on May 9 via surrogate.
7. Iggy Azalea
---
Iggy Azalea's split from ex-fiance and NBA star Nick Young, who famously cheated on her and got his baby mama pregnant, didn't seem to make her hesitate to go back into the dating game. Two months after the breakup, the "Fancy" hitmaker was photographed making out with French Montana. Talk about good riddance.
During their time together, it was said that the "Bad Boy" rapper dropped some serious cash on some very expensive diamond rings for the Australian raptress. The fling between them, however, ended after Iggy was seen showing off a lot of PDAs with music producer Ljay Currie.
8. The Weeknd
---
The Weeknd and model Bella Hadid ended their romance in November 2016. The pair made a cute couple together, and fans might think that they would need some time before moving on. Apparently, it wasn't the case for the "Starboy" singer.
In January 2017, the Canadian singer was seen spending time with Selena Gomez. The Weeknd dropped "Party Monster" on January 13 and the music video featured models who looked similar to the former Disney star. The pair, who first made their relationship Instagram official at the end of the month, had broken up, with The Weeknd getting back together with Bella.
9. Nick Jonas
---
Before settling down with wife Priyanka Chopra, Nick Jonas dated several celebrities including actress Kate Hudson. Nick was first spotted with the "Almost Famous" star, who is now married to Danny Fujikawa, in September 2015 as they spent the weekend at Disney World.
That arrived only three months after Nick split from Olivia Culpo whom he dated for 2 years. In addition to having a romantic dinner in Los Angeles around Valentine's Day in 2016, Nick and Kate stepped out together before the 2016 Met Gala in New York. Kate's mom Goldie Hawn also confirmed the pair's brief fling during her appearance on "Watch What Happens Live with Andy Cohen", saying, "Let me tell you something, as long as the kids are having fun I don't care, [Nick]'s a very nice guy, he's a good person."
10. Wilmer Valderrama
---
Wilmer Valderrama and Demi Lovato previously dated on-and-off for six years before calling it quits in 2016. The 36-year-old actor then sparked rumors of him rekindling his romance with ex Minka Kelly three months later.
The exes, who briefly dated in 2012, were spotted enjoying some time together while lounging in Cabo San Lucas, Mexico. In a photo that surfaced online, Wilmer wore black swim trunks and Minka donned a string bikini and black baseball cap.
11. Louis Tomlinson
---
Things were going so fast in Louis Tomlinson's dating life. Anyone would agree that the One Direction member and Eleanor Calder made an adorable couple until they went their separate ways on March 25, 2015 after dating for four years.
Further shocking his fans, the singer announced five months later that he would be a dad of a son he shares with L.A.-based stylist Briana Jungwirth. Of becoming a father, Louis said on "Good Morning America", "Obviously it's a really exciting time, so I'm buzzing, thank you."
12. Alexa Vega
---
Alexa Vega and Carlos Pena Jr. are one happy couple. But little did people know, Alexa started seeing the Big Time Rush member not long after she was divorced from film producer Sean Covel.
Alexa and Carlos got engaged in August 2013 before tying the knot on June 4, 2014 in Puerto Vallarta, Mexico. The pair are now parents to their son Ocean King PenaVega, whom they welcomed in December 2016. "It's so cliche but you see this little thing that two people created and being able to see pieces of Carlos in Ocean…Ocean is so much like his daddy," the "Machete Kills" star gushed over her little bundle of joy.