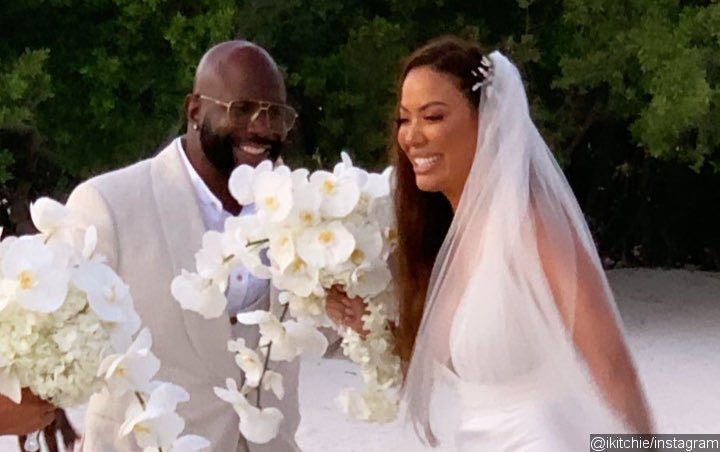 The 'End of the Road' singer and Amber Reyes flash a big smile in one picture that is taken during their nuptials at the Ritz Carlton in Aruba, Netherlands.
AceShowbiz –
Congratulations are in order for Wanya Morris and his girlfriend Amber Reyes. The couple tied the knot at the Ritz Carlton in Aruba, Netherlands on Sunday, September 8. However, their marriage has caused confusion as many believe that the Boyz II Men member is already married.
Floyd Mayweather, Jr.'s personal assistant, Kitchie, was the first to break the happy news, documenting the nuptials on Instagram Stories. One of the photos that Kitchie shared on the photo-sharing platform featured Wanya and Amber flashing a big smile on the beach as they held a bouquet of white flowers. The two went matching in an all-white look, with Amber donning a sleeveless wedding dress and a veil.
Other footage showed how the nuptials went down. Guests were asked to grab a tape at a table and match the song to the artist in order to to find their seats. Inside, they were treated to several types of dessert.
Learning of the news, many couldn't help but express their confusion as they believe that Wanya is still married to Traci Nash, with whom he shares four children. Wanya and Traci tied the knot back in May, 2002. "I thought he was already married," one noted, as another echoed, "I thought he was married to his children's mom…." Someone else asked, "Wait… wasn't he just married with 5 kids?"
Another confused user pointed out, "Wait the mother of his 4 kids was just posted how happily married they were this time last year." Some others, meanwhile, poked fun at his previous relationship with Brandy, whom he dated when she was just 15 years old. One person jokingly told the others to "check on" the songstress, while another confessed, "The fact I was still banking on him n brandy getting back together."
Wanya has yet to address the confusion.